Hello! I sometimes think Ellie looks a bit like a cat when she's curled up asleep. Do you think she looks a bit like a cat?!
Miniature wire-haired Dachshunds (which is what our two doggies are), go really teeny weeny when they curl up tight. When they're in this position, it usually means they're concentrating hard on the job of sleeping, but they look so adorable when they're like this, I always want to scoop them up and give them cuddles. Which doesn't go down well, especially with Ellie.
Ellie was doing a lot of snorting, followed by great big huffy-puffy sighs, whilst I was photographing my knitting. It must be very exasperating for her, that I never appreciate just how much sleep a dog of her miniature stature needs.
I swear I could hear her mumbling "this is my sofa so just go away".
Anyway, as a dog owner who in no way (ahem) panders to the whims of my dogs, I carried on photographing my knitting.
Do you get an idea of the OCEAN of yarn ends I've been sewing in, from these photographs?! Feels like an ocean.
I really am having to grit my teeth and get on with it. Well, I don't have a choice, they have to be sewn in if I want to wear my fair isle dress. It does feel a bit like there are thousands to sew in though!
Someone made a comment at my knitting group about the amount of ends to sew in, and I said they wouldn't be a problem, and I naively believed what I was saying. Self-deluded, that's what I was.
Anyway, this is fast turning into a great big long moan about sewing in ends, and that's about as bad as actually sewing them in. So I'll just show you some colourful pictures to whet your appetite for the big reveal, which will hopefully happen next week.
Ellie, my little snuffling flower.
Must be going now, it's my knitting group meeting tonight, and I've got ends to sew in. Lovely.
Before I go, here's a bit of something interesting. Someone asked a friend of mine if I'm pregnant, because she saw me "wearing a maternity oufit". I'm not pregnant, I just like wearing loose smocked tops. Every time I put them on in the future, (and I have three of these 'maternity' tops), I'm going to be a bit self-conscious. I was wearing one of these tops when I answered the door to the postman a few weeks ago, and he said "have we some good news then?"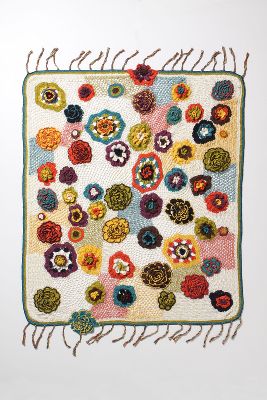 Look at this blanket, above, it's from anthropologie. I like the freeform crochet going on, it's inspiring don't you think? Linda shows it on her blog, which you can find here. If you go over to her blog, she's got a link to a fabulous must-see crochet blanket that someone has just finished, honestly, it's worth the peek.
Must go. Toodle-loo. Love Vanessa xxx